CHRIS LEHMANN 1968-8/5/17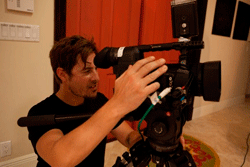 I had the great pleasure to work with Chris on a number of projects.
I miss him immensely.
He knew how to get the shot. He knew what to do once he had it. He edited images like he was making music.
I am posting the bio that he wrote for one of our projects. He was such a wonderful talent and a spectacular human being. If you were his friend you were blessed.
Chris Lehmann is an Emmy Award-winning freelance cinematographer, editor, and filmmaking instructor based in Camden, ME.

Chris Lehmann has completed projects and continues to work with clients including The American Red Cross, STUDIO (Television Australia), Patagonia, The Penobscot River Trust, MPBN (Maine Public Broadcasting), Good Focus Films, Wild Fibers Magazine, Overseas Adventure Travel, Global Community Service Foundation, Storm Warriors International, Cellardoor Winery, and others.
In 2014 Chris won an Emmy Award from the Boston / New England chapter of the National Academy of Television Arts & Sciences for his piece "Spirit Of Winter in Mid-coast Maine".  
During the winter of 2014, he also traveled to the Himalayas near Leh, India to shoot and edit a short film for Wild Fibers Magazine documenting the lives of nomadic herders raising goats for Cashmere wool. In 2013 he collaborated on a short entitled "The Audition" which won the Zeiss Precision Imaging Competition (Director).  He most recently completed work shooting two music videos for the band "Vanna", who will be touring in 2014 on the Vans Warped Tour.

After attending Syracuse University where he received his B.S. in Television, Radio, and Film Production from the Newhouse School, with an emphasis on audio production, Chris planted roots in San Francisco, CA.  Here he formed and was the primary songwriter and singer for two successful bands Heavy Into Jeff (UBL Records) and Magnified (TVT Records) while continuing to hone his skills as a sound recording engineer and producer in both studio sessions and live music recording environments throughout Northern California and Los Angeles.
(Chris singing lead for Heavy Into Jeff)

After being released from his last recording contract, Chris again immersed himself in film and video production, eventually garnering a staff position at San Francisco production house, Beyond Pix Media where he worked as a location audio engineer, key-grip, gaffer, camera operator, editor, and eventually director of photography for clients including Jawbone, Google, Hewlett-Packard, eBay, and other Silicon Valley companies.

"Beyond Pix was instrumental in my transition back to working in a visual medium, everyone wore many hats, and the years that I spent there allowed me to blossom as a cinematographer and editor which, along with my previous experience working with audio, gave me the ability to craft a complete story. I have never underestimated the importance and power of audio to enhance visual storytelling, it's absolutely essential".
---
(Book, music, & movie reviews; & interviews & fiction & mutual support & encouragement are all in play at dandomench.com - a forever free secure site with the highest standards of privacy available. Your free login is your email address and name - the only information the site retains. Your participation is not public. We never track you or share or sell your email address. If you do choose to contribute, we never store that information. Add this website to your address book or drag the newsletter from your spam folder to your primary folder so we can stay in touch. You can contact me at dandomench@gmail.com. I will respond as quickly as possible. I am grateful for your friendship and support. Thank you!)