I encourage everyone to create: music, writing, performance, film, poetry, non-fiction, business, theater, visual art, and more. Whatever works for you.
And I write fiction.
That's it: that's who I am and what I do.
I posted a personal bio on this site How The Universe Made A Writer in response to the question: what made you a writer?
If you wish to know more about my professional life, here's that:
Dan Domench is an American short story writer, playwright, and screenwriter. He is known for the chapbook Three American One Act Monologues (Coyote Love Press), and two audio collections of stories he wrote, directed and produced, Hold Me Fast and Wayside Cross, both performed largely by non-professionals, including neurodiverse actors. He adapted short stories from the audio and added new stories for two self-published collections Hold Me Fast and Beauty Strip. He published over 40 fiction stories in Portland Monthly Magazine (Maine) and wrote uncredited screenplays for Konner-Rosenthal Productions at Universal and at Raleigh Studios Paramount.
Domench was born in Stockton, California. The grandson of Basque and Irish immigrants he attended Catholic schools. While a high school student he wrote and directed plays and dramatic readings in the community and wrote for an underground newspaper. He was admitted into Saint Mary's College as a conditional student and studied under the novelist Chester Aaron and poet Robert Hass. At SMC he was a student body officer for two years and produced rock, folk, and art events. He wrote a short novel Rabbit Road which was his application for the University of Iowa Writers Workshop Master of Fine Arts program where he studied under John Irving, Stanley Elkin, and Raymond Carver. He and Carver, among other adventures, drove from Iowa to California. Their friendship is noted in Raymond Carver: A Writers Life by Carol Sklenicka. Domench has been sober and drug-free since 1978.
He received a Master of Science in Education from the University of Maine and worked as a counselor for many years including attending to addicted patients in a locked psychiatric unit.
His newest collection of stories will be released in 2023.
Domench hikes the northern mountains. He stays in close contact with his adult stepdaughter and two adult sons. He lives in Maine with his partner.
REVIEWS
"These stories are talking blues. They are what people tell themselves and each other to keep going. And we hear them as if we were better listeners than we ever really are, and they hold us poised listening at just the point when attention has become so complete it has not yet quite become terror or pity, which is why, I suppose, the stories are also a little funny and oddly beautiful. Dan Domench is an absolutely convincing writer." - Robert Hass, Past US Poet Laureate, Pulitzer Prize author of "Twentieth Century Pleasures" about Domench's chapbook  "Three American One Act Monologues".
"This is a new and original voice and I urge you to give it your attention." - Raymond Carver about Domench's chapbook  "Three American One Act Monologues".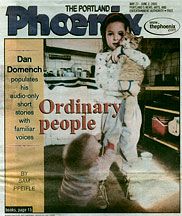 "Dan Domench's stories are cries of love and loss, pain and rage – sometimes as bitter cold as the North Atlantic, corrosive as road salt, sometimes as naked as the tenderest yearning." – Michael Harris, LA Times Book Reviewer, author of White Poison: A Tale of the Gold Rush about Domench's book of short stories "Hold Me Fast".
"A thrilling collection of voices" - Sam Pfeifle, from his review of Hold Me Fast featured on the front page of the Portland Phoenix.
"Dan Domench goes into that lonely place - breaks into that lonely place - and even comes out with the dirty ashtrays. He'll find you in there, too." - Colin Sargent about Hold Me Fast, his poetry books are Blush and Undertow. He was awarded the Maine Arts Fellowship in Poetry. He is Editor and Publisher of Portland Monthly Magazine, his latest book is Red Hands.
"Besides the 10 talented voices, subtle background sounds, and somber musical segues, listeners will be drawn to the writing of these performances. One won't soon find an audiobook that is this dark and sad while also being hopeful and optimistic." -Audiofile Magazine about the audiobook Hold Me Fast.
"Dan Domench writes beautiful and memorable stories told in equally unforgettable - and true - voices. You owe it to yourself to hear Hold Me Fast. -Laurence N. Moffi, A Citizen's Handbook, poems, Orchises Press, Crossing the Line: Black Major Leaguers 1949-1957, University of Nebraska Press, and The Conscience of the Game, University of Nebraska Press.
"Dan Domench's work haunts, sings, slides under skin... something alive there... in the dark...Voices. Streams. Bridges. The body's steam. Somewhere between sex, voices, and silences. Here is a highly resonant, compelling, unforgettable work... from a writer and observer of the world and of the minds in it... here he documents things behind the seeing... a writer who speaks of bodies. Voices. A house by a river. An unlit Church there - in the dark." - Marian Haddad, Poet and essayist, author of Saturn Falling Down and Somewhere between Mexico and a River Called Home about the audiobook Hold Me Fast.
"These powerful and painfully beautiful monologues by Dan Domench are songs of the marginalized American male and female, old and young, with troubles so skillfully and so simply and so eloquently articulated they bring you to your knees." -- Dennis Sampson about Wayside Cross. His books of poetry include In The Shadow Of A Man, Needlegrass, and For My Father Falling Asleep At Saint Mary's Hospital.
"This is Winesburg, Ohio for a new generation." - Daren Wang, founder of Verb: An Audioquarterly and The Decauter Book Festival about Wayside Cross.
"In the tradition of Steinbeck and Carver, these are the voices of the dispossessed, the disappointed, the half-mad with grief, who speak from the fringes of American society, but struggled with the contradictions and impulses, the fragility of what we all are made of. I will be listening to these stories for years to come. This is the raw, bold, real thing. It's a masterpiece, and it's poetry." – the late Jane Mead, her books of poetry include To the Wren: Collected and New Poems writing about Wayside Cross.
"These stories are quite simply the best I've encountered in years, and in a form that moves the American short story into a whole new territory. There is a level of maturity, even mastery in these stories, and they fit into a context, come from a lineage, and to my mind Dan Domench is taking his proper place among the finest of our writers." - Alfred DePew, author of The Melancholy of Departure winner of the Flannery O'Connor Award about the audiobook Wayside Cross.
"Survivors (and the dead) tell their tales with devastating aplomb and dangerous self-delusion. You won't forget these people or their desperate search for words to justify their lives. There's no turning around from these stories." - Carol Sklenicka, author of Raymond Carver: A Writer's Life and Alice Adams: Portrait of a Writer about Wayside Cross.
---
(Please subscribe. Book, music, & screen reviews & interviews, & fiction are sent out monthly at dandomench.com --a forever free secure site with the highest standards of privacy available. Your free login is your email and name--the only information the site retains. Your participation is not public. You are never tracked or your email shared. Please contribute if you can. Your payment information is never stored here. Add this website to your address book so we can stay in touch. You can contact me at dandomench@gmail.com. I will respond as quickly as possible. Thank you!)