LYNN DURYEA Interview
Acclaimed Sculptor & Visual Artist Shares her Evolution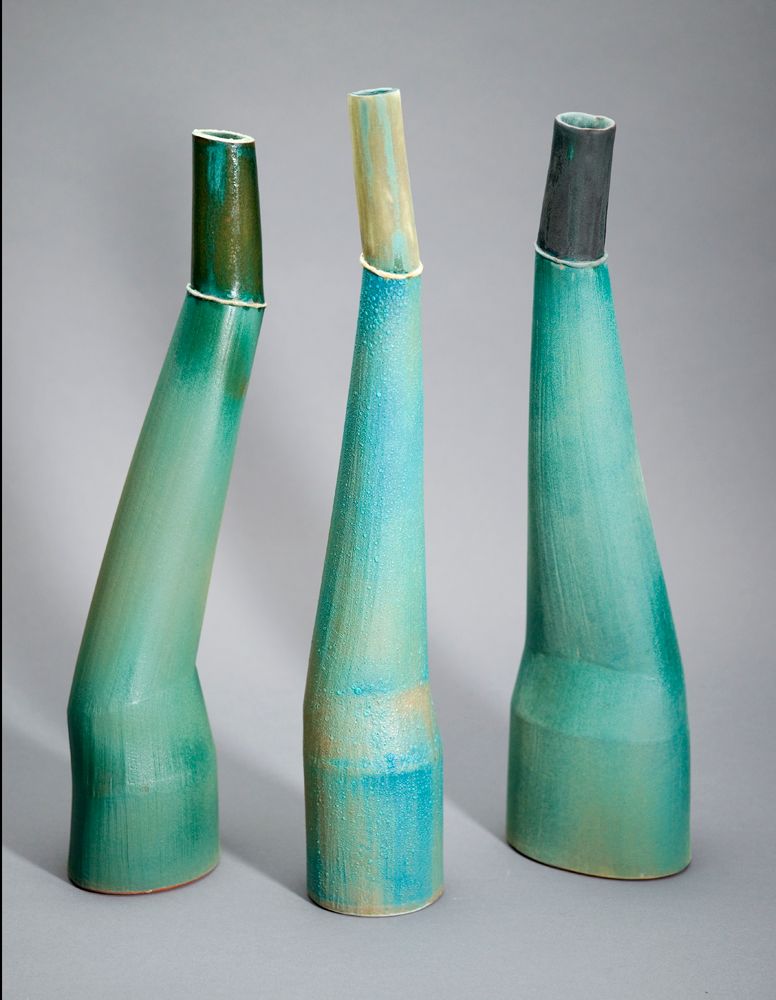 "I know that more is possible." - Lynn Duryea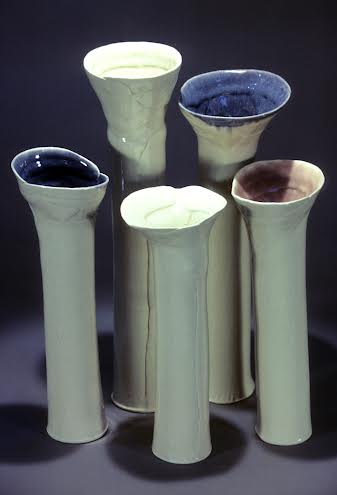 I was delighted that Lynn Duryea agreed to an interview to share her journey as an artist.
Lynn is Professor Emerita of Art at Appalachian State University in Boone NC and was a studio artist working in Maine before earning a Master of Fine Arts from the University of Florida. She now works in Maine full-time, in South Portland, and on Deer Isle.
Lynn is a Founding Trustee of Watershed Center for the Ceramic Arts and was the Program Coordinator and Artist-in-Residence for The Watershed Workshop for People with HIV/AIDS. She is a co-founder of Sawyer Street Studios, an artist-owned ceramic facility in South Portland, Maine. She was a recipient of the Maine Crafts Association 2012 Master Craft Award, and the first visual artist to receive Portland, Maine's YWCA Women of Achievement Award. Lynn was an Emerging Artist at the 2004 NCECA Conference (National Council on Education in the Ceramic Arts). She has received grants from Appalachian State's University Research Council and the university's Foundation Fellows, the Maine Arts Commission, and Watauga County Arts Council.
Lynn's work is represented in numerous publications including "The Poetics of Space and Place" by Jim Toub in Ceramics art & Perception;  Discovery: Fifty Years of Craft and Transformation at Haystack, Carl Little, ed.; Dry Glazes by Jeremy Jernegan and a cover article by Glen Brown in Ceramics Monthly, "Lynn Duryea: The Energy of Edges".  Lynn's work has been exhibited extensively. Group shows include the 2016 Maine Biennial at Center for Maine Contemporary Art in Rockland ME, Contemporary New England Ceramics at the Currier Museum of Art, Manchester NH, and International Emerging Ceramic Artists Invitational Exhibition, FuLe International Ceramic Art Museums, Fuping, Xian, CHINA. Her work is in the museum's permanent collection.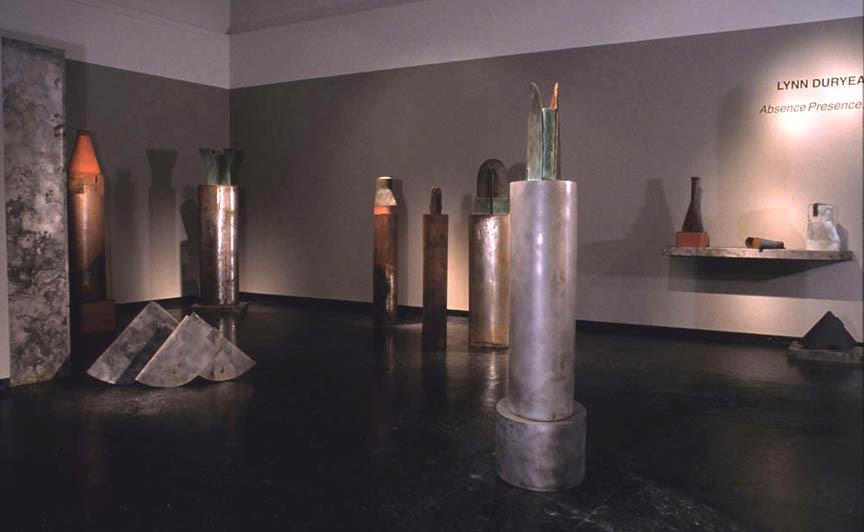 Dan: Lynn, it is such a pleasure to interview you. I have watched your growth as an artist through the years and can see the evolution of your concerns and vision from the early production work to your large installations. What guided you forward? How did you keep evolving?
"I know that more is possible."
Lynn: What I find, as I look back over my career, is that some of the shifts and changes were intentional, things that I set in motion, while others were in response to opportunities that presented themselves. An example of the former is deciding to go to graduate school after nearly 25 years of working with clay. The phrase that kept going through my head is "I know that more is possible", meaning I knew there was another level to go with my work. I didn't see it happening if I stayed in the same place having the same conversations with the same people. An example of the latter is having a design editor for a magazine see my work at a craft fair in Blue Hill; she showed my work to buyers at Tiffany & Co. That resulted in three years of selling work to their New York City store and the launching of a production business that lasted for over a decade.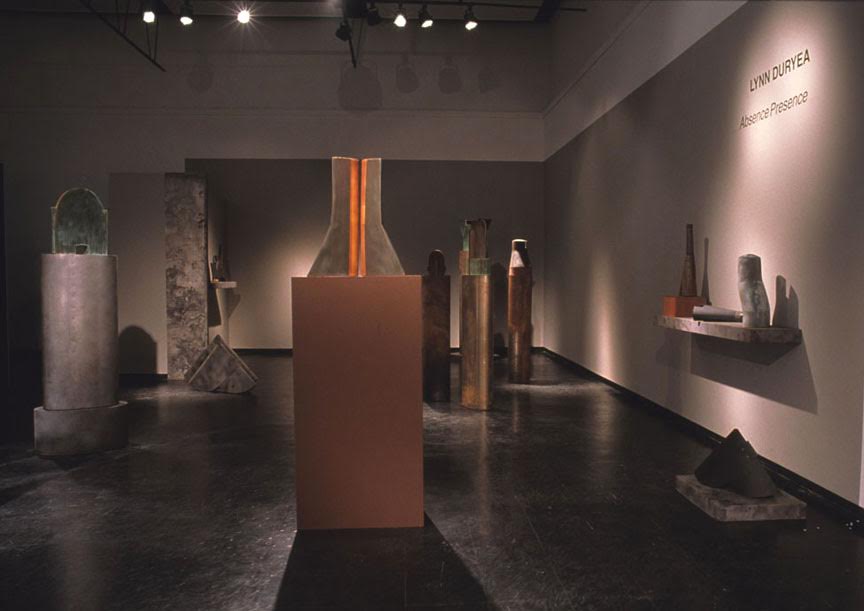 Dan: Where did your earliest inspiration come from? I know you have worked in other visual mediums in the past, but what led you to primarily work with clay?
"... materials have both a form and a language."
Lynn: My first experience with clay – or with any material - was a class I signed up for after seeing an ad in The Village Voice while I was in graduate school for art history and museum studies @ NYU. That was in 1969, a long time ago! Clay is the material I've worked with the most. I started working with other materials decades later in graduate school at the University of Florida when I took a sculpture class.
I came to understand that materials have both a form and a language; I'm interested in what each can do - and not do. I currently work with clay slabs to create sleek and minimal forms, similar in some ways to working with thin sheet steel.
Much of the inspiration for the forms I'm making now comes from growing up near and living on a working waterfront. My sculptural pieces refer to structures that range from abstractions of letters of the alphabet to large-scale industrial forms.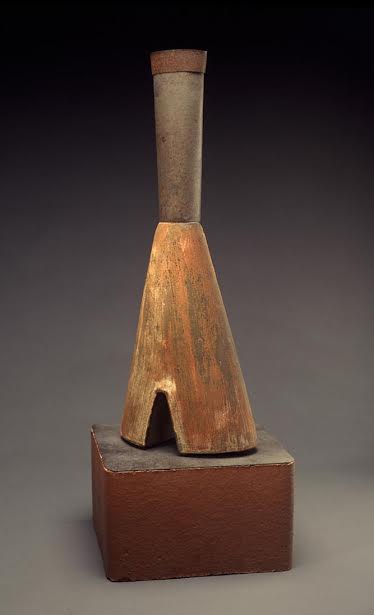 Dan: You have dedicated a large part of your life to teaching. How does this feed your creative work?
"I enjoy people, and like helping them..."
Lynn: I learn by teaching – about process, about people, about myself. Teaching is something I've done over the length of my career, in many settings and with very different populations, beginning with Adult Ed on Deer Isle. From there I taught Continuing Studies @ Maine College of Art, in a medium-security prison in Maine, at the Deer Isle Nursing Home, and as a graduate teaching assistant, all before being hired as a tenure-track professor at Appalachian State University in NC. For 12 years I facilitated a workshop for people with HIV/AIDS at Watershed Center for the Ceramic Arts. Each of those communities and populations is different, each interests me.  I enjoy people, and like helping them as they approach something new. I especially enjoy witnessing beginner mind.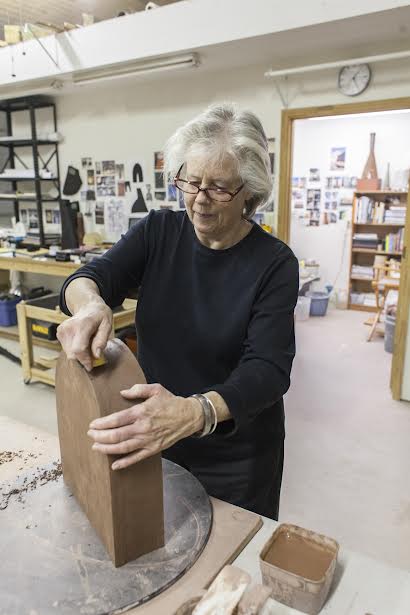 Dan: What keeps you going? What advice would you give a young artist today?
"I find that structure helps keep me focused..."
Lynn: At this point, there is momentum sustained by both working in the studio and attending to all of the things necessary to support a career. It all matters. I don't have to love it all equally, but I do have to do it all. I find that structure helps keep me focused, meaning deadlines, exhibitions etc. Some of this is generated by paying attention to and following up on opportunities, while some come my way as the result of having worked in my medium for a long time.
It's also very important to make time for things that are meaningful and informative which directly or indirectly inform my work. Traveling and gardening are examples.
My advice is to make a decision about what it is you want to do, then suit up and show up. Some days will be better than others. There will be successes and failures, both of which are informative. Be grateful there is something you want to do, even if you don't want to do it every day. And if you don't want to do it anymore, you can always shift to something else.
Dan: Thank you, Lynn.
I have also included Lynn Duryea's beautiful Artist Statement.  One of the best I have ever read.
LYNN DURYEA
Artist Statement
The ordinary can be quite extraordinary. Through elemental shape and form, my reference is to architectural, structural, and mechanical elements. The representation of function is in an allusive and enigmatic sense, suggestive of the past. The objects are evocative of abandoned sites of human activity, generating feelings of melancholy and quiet.
When viewed from a distance, these objects present insistent profile and reductive form, images of simplicity and stillness. Closer consideration reveals a sense of history, and traces of transformation that generate narratives of accretion and deterioration.  Surfaces are generated by means of building up and wearing away, layering, and removal of materials that implies processes occurring over time, suggesting previous use and depicting the effects of decay, erosion, and weathering.
Through a vocabulary of form of softened geometry, I investigate subtlety and nuance, and the method and manner of connection.  Simplicity and clarity function as an expression, and as an invitation to contemplate the complexity and richness that can exist in the apparently straightforward. Subtle shifts and changes, seeing images from slightly differing angles and views, lends a depth to the consideration of objects.
Transition zones, borders, and places where one reality shifts to another, are compelling in their quiet drama. Great energy exists along an edge.  Growing up in a small town on the extreme end of Long Island, New York, I know the feeling of a littoral, a place where land stopped and seemingly endless water began. Land and the landscape have been encountered in visceral as well as visual ways. The nature and essence of the feelings generated by a particular place are as inspiring to me as the structure and color of land, buildings and vegetation.
Joy in the physicality of constructing is part of what compels me to create objects.  I am interested in how the structure, as well as the methods of construction and assembly, can become part of the visual language of an object. More than serving a compositional function, for me these elements become part of a record of making, connections in time as well as material.
Youtube Documentary
(You can find more information about Lynn and her work at lynnduryea.com. The YouTube documentary on her work is highly recommended. Her full cv is available on her website.)
---
(Book, music, & movie reviews; & interviews & fiction & encouragement are in play at dandomench.com - a forever free secure site with the highest standards of privacy available. Your free login is your email and name - the only information the site retains. Your participation is not public. I never track you or share or sell your email address. Thank you if choose to contribute. Your payment information is never stored here. Add this website to your address book or drag the newsletter from your spam folder to your primary folder so we can stay in touch. You can contact me at dandomench@gmail.com, on Twitter @DomenchDan, or on Goodreads. I will respond as quickly as possible. Thank you!)